PORSELF TM Self Sealing Porous Medical Filters act like a valve, when liquid touches it; it closes and stops the flow immediately. It is widely installed in suction liner bags, suction liner bottles which are used in hospital to collect waste liquid from patient who is performing surgical operations.
The overflow-stop cartridge can make the operation more smoothly and safe.
Technical Data : BLINEX TM - PORSELF TM Self - Sealing Porous Filter Elements
Material: PE ,PP with Special Self Sealing Additives
Manufacturing Type: Sintered Elements
Application: Hospital suction liner bags , ESR Pipette , self-sealing hospital vacuum canister filter valves, and filtration of bodily fluids. pipette tip filters, to catheter vents, to hospital suction canister valves.
Working Temp 80 deg C
Filtration Rating 2 to 50 (Micron)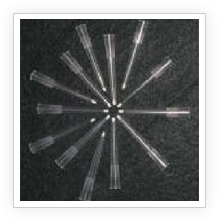 PORSELF TM Porous Plastic Pipette Tip
BLINEX FILTER COAT PVT LTD pipette tip filters act as vents to prevent aerosol contamination of the pipettor when using air displacement pipettors. Our filters offer protection against cross-contamination by isolating the pipette body from the chemicals being drawn into the tips. Our pipet filters are used for a wide variety of applications including , DNA amplification and sequencing, forensics, tissue culture etc.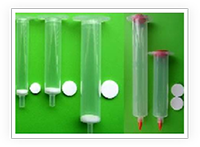 Porous Plastic Liquid Chromatography & (SPE) Column Frits
p> As a leader in porous plastics,
BLINEX FILTER COAT PVT LTD
has developed a unique technology to manufacture liquid chromatography and
solid phase extraction (SPE) frits.
These frits are made from UHMW Polyethylene or PE copolymers with an average pore size from 5-50 microns. Standard hydrophobic and hydrophilic formulations are available to suit your needs.